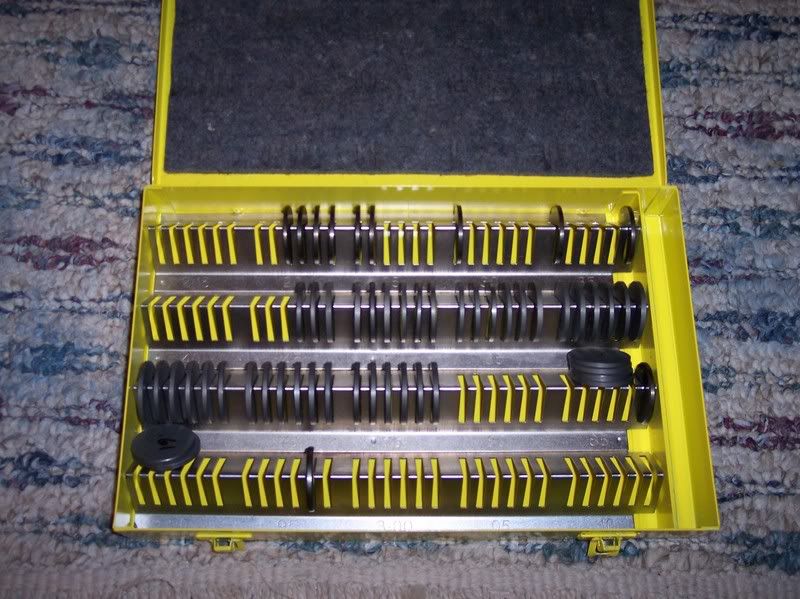 The club is an exchange system, send in a shim get one back. Only ask for a small donation (which helps cover the costs of mailing materials and abrasives and equipment maintenance) to join, members pay for all postage and are responsible for shims they ship. We can sell a few shims to members that want a few spares on hand. Please send any questions to me in a pm.
Many of the shims that we received have been polished down to more usable sizes and come out with a near mirror finish. I think everyone who is a part of it has been happy with the results.
If you have already contributed to the shim pool, either in shims or cash donation, you are a lifetime member. (probably my lifetime)
If you have received shims from the pool and have not yet returned them, please do so, other members may need what you have removed and are obligated to return.
Please remember that shims that are not received by the shim club, are your responsibility and you are expected to replace them.
We also have a bunch of shim buckets that are free for members, just pay the postage.
We have a K&L shim storage box available, box by itself or with shims you want. Let me know what you need and we'll get it set up for you.
If you need to send shims to the club pool, the address is:
GS Shim Club c/o
Ray Luthye
1886 Meadow Vale Road
Longmont, Colorado 80504
CURRENT INVENTORY
<2.00=08 2.00=02 2.00X=02 2.05=00 = 012
2.10=00 2.10X=00 2.15=13 2.15X=00 = 013
2.20=17 2.20X=03 2.25=14 2.25X=03 = 037
2.30=38 2.30X=07 2.35=39 2.35X=15 = 089
2.40=44 2.40X=33 2.45=18 2.45X=00 = 102
2.50=00 2.50X=22 2.55=52 2.55X=23 = 101
2.60=51 2.60X=32 2.65=63 2.65X=26 = 172
2.70=117 2.70X=30 2.75=60 2.75X=14 = 221
2.80=18 2.80X=09 2.85=12 2.85X=05 = 044
2.90=11 2.90X=00 2.95=07 2.95X=00 = 018
3.00=10 3.00X=00 3.05=02 3.05X=00 = 012
3.10=02 3.10X=00 3.15=00 3.15X=00 = 002
TOTAL =821
Current members 264
HALL OF SHAME: Roscoe g coltrane, jumpinbanditrider, ny_redneck04, amontyg, the duke, chrisP, Morrison
SUPER GOOD SHIM CLUB MEMBERS: Dpep, Juicydangershow, Chicagorob, 80GS750, HarryPorosky, bmac, SqDancerLynn1, Nessism, portdave, ALB80-850, wkmpt, AG GL, Surfpilot, ponderosa, scrapper, brads450lz, tas850g, weraracer, Narrator, MrMidas, lcoleman, ardbeglily, bartbeeman, slaveforthewave, Riding Again, MAC10, rwcfrank, ekabil, rockgs1000, Tenorman12, tricyasafox, jsdellinger, sugi, lemonshindig, rustysparksalot, billyhoyle, Govee, callmeahab, bobgroger, mvalenti, Rabel90, gustovh