Dan Bard's Bio
Past Editor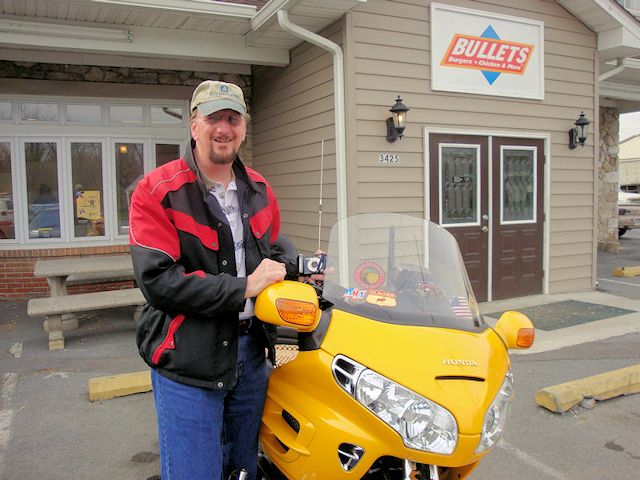 Dan Bard with his yellow Honda Gold Wing
Dan hailed from West Virginia and he loved motorcycling. He and his wife Gale logged thousands of miles riding his yellow Gold Wing all over North America. It wasn't unusual for him to tell Frank that he was in Canada or some other far off place. Unfortunately, scheduling conflicts always prevented Dan and Frank from riding together though they would meet anytime that Frank headed to New Hampshire on his annual trip up north.
In 2010, Dan retired from the Maryland Department of Agriculture as a resource conservationist. Because he had written for numerous regional motorcycle publications, he was offered the job by the State of West Virginia to tour the state by motorcycle and write touring articles for the State's website. This attracted the attention of the State of Pennsylvania and they invited him to attend a press junket. While on the junket, the tour bus in which he and his wife Gale were on was hit broadside by a dump truck. Dan was seriously injured, and his wife Gale was hurt very badly as well.
After being in the hospital for several months, he was allowed home for the Christmas holidays. On Dec. 28, 2010, Dan unexpectedly died. Dan's warm sense of humor and friendly personality are sorely missed.
It was in Dan's honor that we had the Dan Bard Memorial Award. listed in as part of members forum profile. The award was given for several years in Dan's memory to the forum member who did the most in the previous year to help fellow GS owners.